I am here to tell you folks that Pandemic Guilt is real and probably the initial deciding factor in my final agreement to get a dog.  I have been living the past 40 something years of my life with exactly ZERO guilt from not owning a pet.  My three children will quickly attest to this as they have been a never-ending recording of continuous asks for a dog.  My middle child has been extremely diligent with daily notations of how we are the only family without a dog!  Prior to March 2020, I was very capable of stating "I will think about it, son" about a million and one times.  We all know very well that "I'll think about it" means "absolutely no way will I add another breathing creature to this household to feed, clean, walk, soothe and look after".  I am willing to designate those as my famous last words.
So, around the middle of March 2020, all our lives changed.  It was with a surreal speed that we stopped so many things that were staples in our lives and hunkered down with our core group.  During this hunkering, my middle child shifted his dog-getting scheme into high gear.  He saw my weakness and went in for the kill.  I swear he mentioned every dog he saw and made sure I was aware of how happy all these dog owners were.  Everywhere we turned there were skipping, singing, happy dog owners floating along in quarantined life because they had a pet.  It worked.
I decided to try to find a way to adopt a rescue pug (middle child's favorite dog) if it was possible. So, what is the best way to effectively research all one needs to know about adopting and caring for a pug appropriately?  A neighborhood Facebook group of course.  I quickly hijacked someone's post asking about adopting dogs.  Then, I personally messaged a person who was an associate with an amazing Pug rescue group in our city.  She provided me with a plethora of information and my first steps towards adoption.  It is my false belief that this technique erases a lot of wasted time, when ultimately what happened was that I luckily ended up speaking to the right people to point me in the right direction down a long path of adoption of our new family member Hope.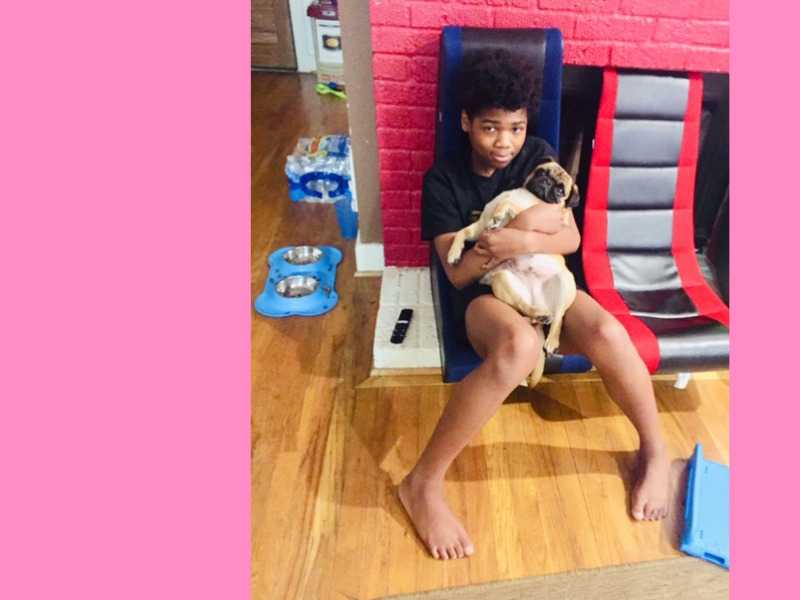 I originally had a goal of having this dog by Christmas morning as a perfect surprise under the tree and the day would end with giggles, kisses, no poop or sleepless nights and no crying children.  Thank goodness things did not work out along my guidelines.  I will note that we often have the crying children, unfortunately, but that has nothing to do with Hope.  I learned that a puppy wouldn't be the right fit, for me, and that a lot more thought and compassion must go into adopting a rescue.  The overall impact of what I was attempting to do had nothing to do with placing a puppy in a box under the tree.  It had everything to do with understanding what we are giving to this pet who will become a part of our family.  We are giving them security, a home, love and peace.
Our rescue came from a puppy mill and was very skittish with everyone she encountered, until she met my middle child.  He and I had a meeting with her while we waited for her medical clearance and it was love at first site for us all.  I foolishly asked him if we should look for another rescue since Hope's adoption process was taking longer than we anticipated, and I am embarrassed to say that he was appalled. His words stick with me to this day.  He said "I don't want another dog. Hope is our dog". When she finally came home with us, I realized that she was here for our protection and love and not for me to shine as a parent.  It was evident that wherever she was rescued from, she didn't receive love as a primary affection, and I was a little fearful that this rambunctious household may prove to be too much for her.  However, it is obvious that she knows this is her home and she is loved, more than she probably ever wanted, by my three children.  I have become a helicopter parent with our Hope to ensure that the kids aren't stressing her in any way, but what I realize is that she has a special relationship with all three and a deep affinity for one.  She has also become my best friend and a tripping hazard whenever I am cooking, especially bacon or chicken.  I will admit that I may be guilty of indulging her in a few treats….but I digress.
So, I am forever grateful for the guidance I received from this agency and Hope's foster family. I did not realize initially during this process that my parent guilt from Covid restrictions was not the real positive of gaining a family member. I see my children stepping up and really being responsible in her care. My middle child is committed to waking up every morning to take her out when she is ready, sometimes at 5:30am (of course that means that I get up too, but I digress). Now, don't get me wrong, all the kids require lots of coaxing and instruction on some of these tasks, but what I do see is the love they all have for her, even my skeptical Pre-teen.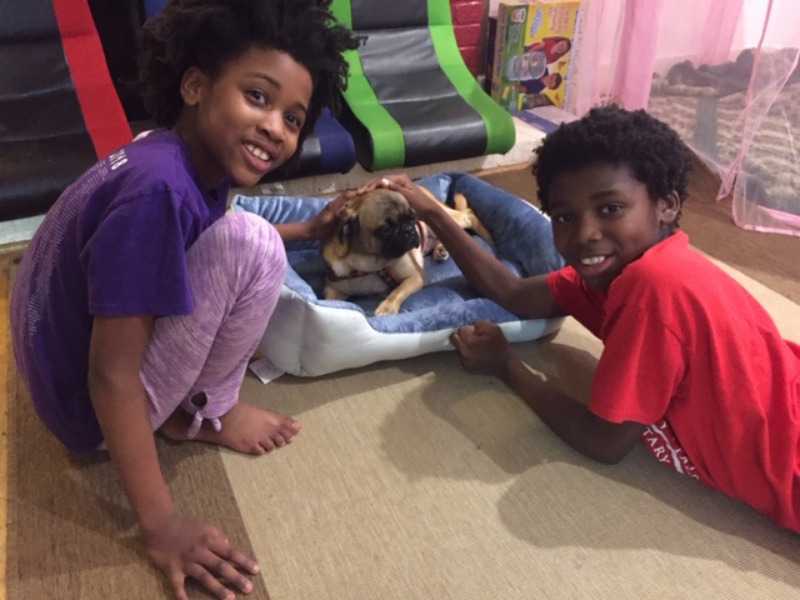 I would love to end this article by saying, I was the provider of this wonderful pet to my family because that is what I do as mommy.  What actually happened was Hope taught me that there are so many things we have gained from growing our family by one.  And yes, I have added to my never-ending list of duties, but I have gained further enriched and semi-responsible children, as well as unconditional love for and from my newest baby.