I was predictably displaying my normal skeptical and judgy attitude towards the panic that was setting in for the upcoming snowstorm and hard freeze in Houston. Watching people panic-purchase is something that really rubs me the wrong way. One may think that I would have learned from the events of this past year that there is always room for things to get worse. But I did not. 
We had food (meat in particular), TOILET PAPER, paper plates, Clorox wipes, and good Wi-Fi. I thought I was ready. These were the items that were hard to come by this past year of quarantines and lockdowns. I had all the things you would need during a global pandemic, but not a winter storm. Bottled water never crossed my mind, we didn't pull out a single flashlight and we went to bed that first night with probably half of our devices uncharged because that's how we roll. We slept comfortably with the eager anticipation of a winter wonderland outside our doors the following morning. We woke up to beautiful snow, excited and happy children, and then things started to deteriorate.
My Texas-born and raised children ran outside to play that morning and only lasted about 10 minutes. I obviously haven't exposed them enough to cold climates. They quickly learned that our coats weren't meant for below freezing weather and that socks on their hands was a better choice than naked hands, but they still didn't do much to battle the sting of wet cold snow. One by one, they gave in to their Southeastern Texas blood and returned to our warm house. Even the dog wasn't very amused. I quickly learned that although we didn't get a huge amount of snow, a significant number of my friends lost power early that day and the numbers continued to grow into the night. It was becoming pretty obvious that this situation was more serious than initially anticipated.
One of our biggest fears was losing water or suffering from a burst pipe. We did indeed experience one of the two, we lost water. It doesn't take long to realize what a nightmare it can be in a house with 5 people and no running water. You quickly switch to survival mode and start setting new household rules. I threatened anyone who I saw frivolously changing their clothes. Spaghetti sauce on a shirt never killed anyone. It dries quickly. I immediately drafted the following Rules: 'Only Flush What Floats' and 'Disposable dishes only or you will lose a hand'. These rules were enforced immediately. Dishes and laundry were no longer an option and just the sight of a growing pile of dishes gave me anxiety. That, and the unbelievable amount of arguing and fighting that occurred over anything and everything. I will never be able to quantify the arguing and nagging that materializes with three children, who have mustered through a global pandemic for almost a year and are now cooped up in a cold house during an ice storm. It is viably enough to send any sane or partially crazy momma over the edge.
And, I will truthfully say that I get great comfort from hearing and seeing the children of my friends behaving the same way. Those happy smiling snapshots on Facebook get old pretty quickly after hearing "GET OFF OF HIM", "Get off me!", "Put the dog down!" "Why are you crying?" and "No you cannot throat chop your sister!"
Seriously, we came through unscathed and are grateful for it. I am sure I have shaved a few years from my life with the anxiety of another traumatic event. However, I did learn many life skills during this fiasco:
You can flush a toilet by adding water to the bowl or tank,
It takes an insanely large amount of water to flush a toilet,
There really is no easy way to boil water to clean and rinse dishes appropriately.
If you don't have a pool, it is smart to have friends who do and make sure they are willing to share said pool water with you to flush your toilets. (Thankfully, I do ).
Cooking when you have no water seems like a good idea, but you quickly regret it afterwards.
Turning off the water to your house during an overnight freeze and letting the faucets drain is a good idea. (An idea that we wished was shared before the week freeze).
Always have a stash of bottled water and gas for hurricanes and for Ice/Freezing Storms.
Unrelenting nagging and fighting will not hold up as a viable excuse for locking your children in their room indefinitely.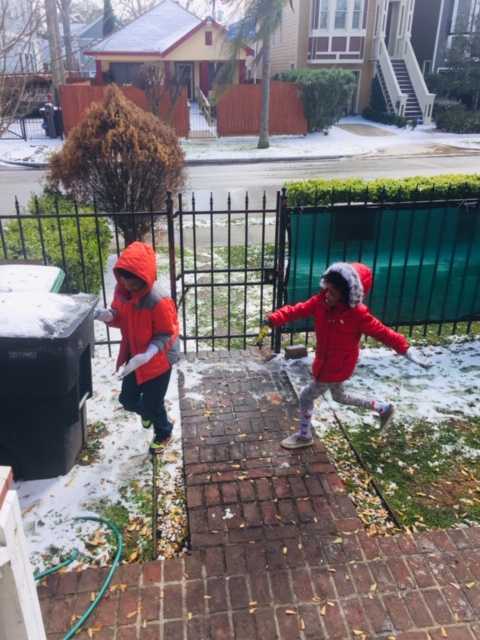 So, what I take away from all of this is that being prepared for a pandemic, helps you in no way or form when faced with a statewide insufficient energy supply, an unstable grid and a full week of freezing temperatures. All the pandemic does is numb you to more disheartening news and slightly lower your guard for the next obstacle. With that being established, I am ready for whatever may come next that will undoubtedly, force me to continue to spend a tremendous amount of time with my lovely family. However, when all of this is over, I see a solo trip to a hotel in my future with a remote, fluffy robe, Rose (of course), some coffee and SILENCE. Stay ready y'all. This too shall pass.