My most recent experience at the hospital was quite different from my first stay a year ago in many ways. I have to say that it was overall more pleasant. My excitement and happiness with the outcome was ultimately the same when comparing the two occasions but this entire experience was less stressful and hectic than the first. My husband seemed to have stored memories from the first experience and utilized his influence to assist in ensuring a smooth delivery and hospital stay. It's amazing to think that you go into a hospital a happy small family of three and you undoubtedly leave a larger family with a different life ahead of you. If you think about it in depth it can be extremely overwhelming and exciting all at once. I have to say that if I had it all to do over again, I wouldn't change a thing.
It all began perfectly the day before with a great lunch with one of my closest girlfriends who is also pregnant, however she is expecting twins. We have been able to keep each other sane during these months of pregnancy and we were both aware that our lunching days would be limited once my little ball of joy arrived. Also, we refuse to even try to fathom how we will be able to carve out some free time once her babies arrive. A friend like this is invaluable because we keep each other sane and married. You always need a person who can relate to your frustration and fears and quite frankly someone who will listen to all of your complaining. This relationship becomes extremely important during those first 3-6 months of your baby's life because she is the one person I can complain to about my husband's Saturday "projects" which often result in me watching the baby (now that will be plural) on my own. One humorous fact is that my girlfriend's husband seems to have these "projects" to take care of also and it really doesn't matter how many projects he completes, there is always another one to replace the first. We think they have compiled a list of projects to cover the next 18-20 years, but how can you complain when they are doing things that improve your home? Anyway, the important thing to take from these meetings is that you need the support of a girlfriend starting from the beginning. More importantly, a good girlfriend can equip you with counter "projects" to help trump your husband's plans.
Now back to the discussion of my second's son day of birth. It began as well as can be expected when parents are involved. I have to say that I was happy that my parents actually came through for us and showed up the night before to watch my son during my hospital stay, but I am not so happy with all the drama that comes along with the involvement of my parents, my mother in particular. Of course they arrived later than they initially stated and as a little added perk, in my spare time they requested that I have their dinner ready when they arrived (and they sure didn't want food from the same place); never mind the fact that I was so pregnant I could barely walk five feet without resting for 30 minutes. After they arrived and I gave them the long list of instructions in reference to what my son eats, when he sleeps, what he likes and how we put him to bed, I thought my mother was going to blow a gasket. The initial rule of no shoes in the house was also met with lots of resistance initially and I saw my mother give my father a "knowing" look but we stood our ground. Once they had been inundated with instructions regarding organic milk, no fried foods, what laundry detergent to use and nighttime rituals they both told me not to worry and that my son would be fine. I had no choice but to believe them and they were right.
The next day at the hospital went as well as can be expected and most importantly I wasn't at my home when my sister, her husband and her three kids arrived to see my small house inundated with a plethora of people and one small dog. We arrived at the hospital at 5:45 am and promptly realized that I had forgotten the scrapbook for our son's footprints and my husband had forgotten the camera. He was able to return home and retrieve the items before morning rush hour and more importantly before our new one arrived. The more time you spend with your spouse the less these surprises bother you, if this same thing had happened about 4 years ago, I probably would have started my son's birthday with a nice big argument.
However, as you go along, you learn not to sweat the small stuff and the day went along without a hitch. The entire process was a whole lot less stressful than my birth a year prior. I received my epidural, joked with the anesthesiologist, talked to the nurses in the operating room and at 8:05 am I had a beautiful new son.
It doesn't seem to get any better than that. Even the pain didn't seem as bad following the procedure and we were able to go home a day early. I walked into the operating room a pregnant woman and about 30 minutes later we were wheeled out separately as mother and son, never to be so closely connected again.
My husband made a point of limiting the visiting times and the number of visitors we had which allowed me to spend my first few hours alone with my son and it couldn't have been sweeter. The following day we introduced our two new boys to each other and I realized that things may not go so smoothly once we get home. My oldest son gave us just a hint of what was to come. Basically, he showed us that he wasn't too happy about this new tiny creature and so he chose to ignore him mostly. We were able to make the initiation of this transitional period a little easier by giving him a "sibling cake" a small gift from his little brother to him.
We even allowed him to eat it without spoons, forks or baby wipes!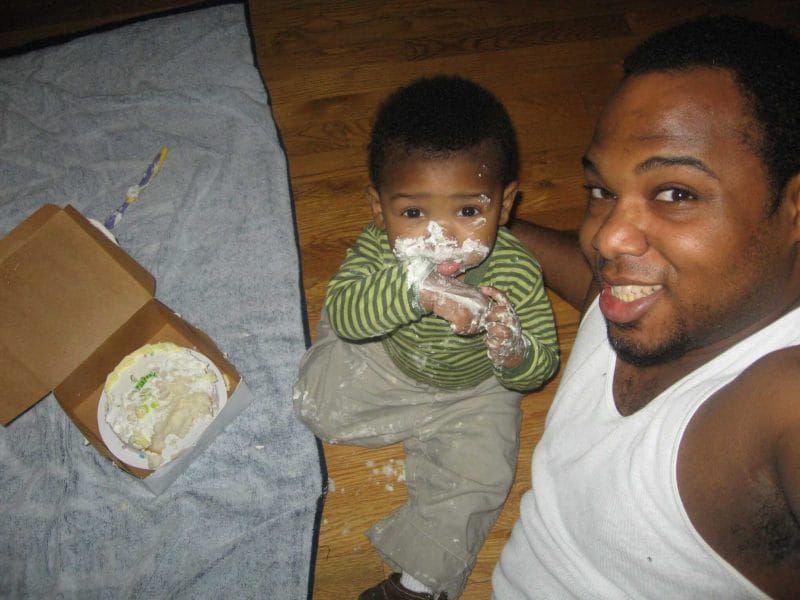 Hey, we believe in bribery. I realize that this entire transition will not be so easy but we have no choice but to make the most of it and hopefully keep our boys happy in the process. It will make for some stressful days but good 3ammom reading.
We returned home after 3 days with our new son and my parents left us in our house with our new family. I am not sure what to do or expect and I am certain that my husband feels the same way. We will try to continue with business as usual and minimize the chaos but what I have looming in the back of my mind is the fact that in 2 weeks I will have both boys to watch on my own and I am terrified. I am hoping to create some sense of normalcy prior to the arrival of my "liberation" (staying home alone with the boys), but I know it won't be easy. I will just hope for the best and prepare for the worst but I won't ever forget that children are blessings.